Welcome to the Sunbury Business
Expo 2023
The Sunbury Business Expo is more than just a networking event it's a community. Business owners can take away new connections, tangible tools and support that can help them build their business even after the event.
WORKSHOPS & BUSINESS PANEL
Build Your Business
Network for Business Growth
Connect with like-minded entrepreneurs and expand your network for business success.
Secrets to Business Success
Unlock the insider secrets to building a successful business from experts in the field.
Tools for Business Growth
Discover the latest tools and strategies to take your business to the next level at our expo.
Empower Your Entrepreneurial Spirit
Fuel your entrepreneurial spirit with inspiration and knowledge from industry experts.
Learn From Industry Experts
Gain valuable insights and learn from the best in the industry to accelerate your business growth.
Insider Strategies for Success
Get ahead of the game with exclusive insider strategies to take your business to new heights.
Big Business Branding 4 Small Business
Josh M. Designs
An insight into how big businesses utilise brand platforms, human insights and behavioural science to create effective campaigns.
Josh Mills has worked with clients like Samsung, Cadbury, AAMI Insurance and many more to develop creative campaigns that aren't based around numbers but human behaviour.
7 Ways to Grow Your Business
Michael from Sage Business
Look closely at your business and be challenged to adapt.
Learn how to set a roadmap and dashboard for your business.
Discover how to measure and maximise business efficiency.
Learn how the seven ways to grow your business impact your profit and cashflow.
Assistance for Self Employment
Stephen from Holmesglen
Demystify common concerns and challenges faced when creating or building a business.
Access information and research businesses may need to establish or grow their profit.
Learn practical information on free business support and information services, ranging from simple one-on-one meetings to a fully comprehensive service to help you throughout your first year of trading.
Exhibitors Package
Showcase your products & services
Enhance brand awareness
Grow your business
Network with industry experts
Attend Q&A Business Panel
Wine & Food
Entertainment
Interact with people face-to-face
Attend Q&A Business Panel
Network with industry experts
Wine & Food
Entertainment
Attend Workshops
Access to all keynotes
Build Your Business
Attend Q&A Business Panel
Wine & Food
Network with industry experts
Entertainment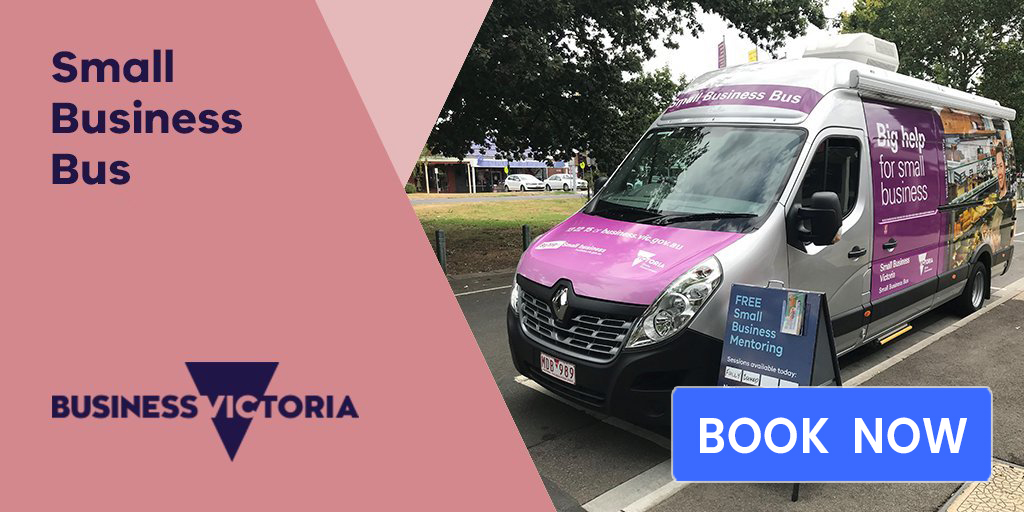 The Small Business Bus, operated by Business Victoria, will be attending the Expo | Whether you're planning, starting or growing your business, the Victorian Government's Small Business Bus can help you to develop your business ideas and capabilities | Sessions are strictly limited | Make a Booking Now.
Build Your Business Articles